What is Sound Healing? How can it help when combined with Somatic Psychotherapy?

These are the questions that Danny Givertz, LCSW, aims to answer in this new blog post and case study.
Sound healing, or sound therapy, is a new and growing field within complementary medicine. It is based on ancient practices passed on for thousands of years through world religions and medicine, but is as relevant as ever in modern times.
Think about the impact you feel from the sounds of a waterfall, the waves of the ocean, the lull of a rushing river, a performance of an adagio movement of a sublime symphony, the quiet on a mountaintop under the stars. Human brains respond to sound waves in powerful ways that research has only just begun to document.
As in other forms of somatic psychotherapy that attend to the psyche (mind) and soma (body), sound healing sends sound vibrations into the body to target areas of pain, stress, tension or trauma.
How Does Sound Healing Work?
The therapist can send sound waves into the client's body in different ways, including:
Creating sound vibrations with instruments e.g. playing Tibetan gongs, singing bowls, or tuning forks and applying these instruments directly to areas of the body where there is pain, stress, tension or trauma.
Playing music in the therapy session that has been carefully curated based on past success with other clients (e.g. sacred songs, instrumental music, recordings of nature).
Singing or chanting close to the client's body, utilizing certain healing frequencies.
Guiding the client to produce vocal sounds in his/her own body that vibrate directly into problem areas in the body and have an overall soothing feeling for the client.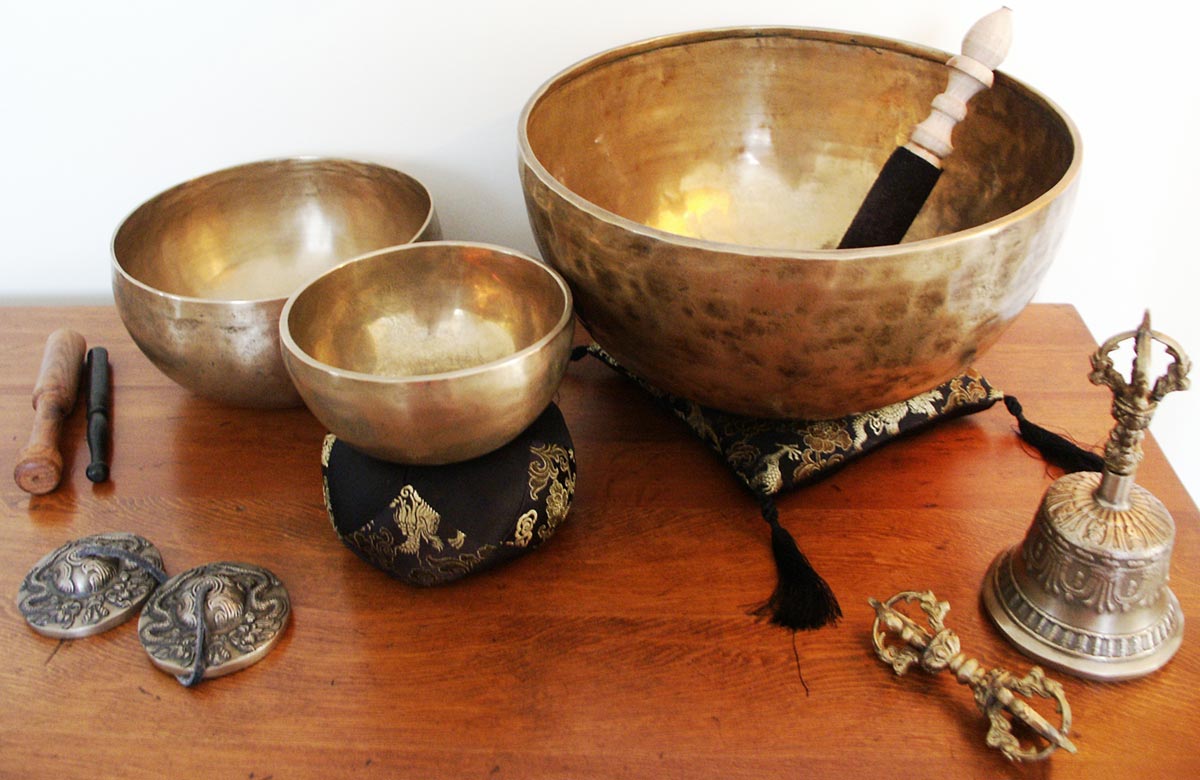 CASE STUDY
A Combined Session — Sound Healing and Somatic Psychotherapy
A young woman in her early forties came to see me for an initial consultation. She was a busy manager in a thriving Bay Area tech company. When I initially asked what she wanted help with, she reported feeling a lot of work stress and anxiety.
We talked some more about her work stress and the specific anxieties she was experiencing around being overwhelmed with work demands and feeling misunderstood by her bosses.
Knowing her body would be storing these emotions, I then guided her through a body meditation or 'inner-felt sensing' to find out what she was feeling in her body in this moment. We scanned her entire body, and she identified significant lower back pain and tension.
I explored whether she was open to lying on a treatment table to do some work together. She was very open to trying. I theorized that her fear or anxiety was located in her lower back and kidneys. In traditional Chinese medicine, each major organ is connected to an emotion, which commonly can be out of balance and cause illness or disease.
Exploring the Kidney with Sound Healing and Somatic Psychotherapy
The kidney is the organ that holds prolonged fear, when out of balance. Over the next 30 to 40 minutes, she lay clothed and blanketed on the table with her eyes closed. I initially used gentle craniosacral therapy manipulations with my hands under her neck and at her feet (to help ground her and to reset and calm the craniosacral fluids bathing her spinal column).
Then I placed one hand under her lower back/kidney area and the other on her corresponding abdomen and began sending energetic healing energy through my hands — like a gentle force field between my two hands — breaking up tension and energetic blockage. I eventually worked on both sides of her lower back/abdomen.
At the same time, I coached her to give voice to sounds that expressed the pain and tension in this area of her body. She produced a series of sounds that were clearly symbolic of the pain, exasperation and fear in her 'lower back.'
I also guided her to take note of any images, colors and thoughts and to share those with me at any point if she wanted. Next, I coached her to explore different sound vibrations with her voice that vibrated a soothing, relaxing affect directly into her lower back and kidneys. We worked together to identify these specific sonic frequencies, and I joined her in amplifying these new healing frequencies, both in singing along to her own frequencies and in harmonizing with them (using 1/3rd and 1/5th harmonies).
For the closing part of the session, she sat up in the therapy chair and talked about her experience, images and thoughts that emerged during the sound healing. She looked about 10 years younger than when she'd walked in.
When asked how she was feeling now, she reported feeling deeply relaxed, rested and balanced from our session. She had a lightness, smiling and joking easily. She reported that she had resonated strongly with the sounds she had created to calm her lower back pain and tension.
She now had some new ideas for how to improve her work stress and communicate her needs more clearly with her bosses. She committed to practicing and calling on her new medicinal sounds during and after her difficult work days.
This is a snapshot of how sound healing can help in psychotherapy with a trained somatic therapist. The collaborative work together will become deeper and more transformative over time in an established therapy relationship.
ABOUT THE AUTHOR
Danny Givertz is a Licensed Clinical Social Worker at Well Clinic. In addition to working as a psychotherapist, Danny is an advanced practitioner of craniosacral therapy and a sound healer, using energy and sound as tonics for mind-body conditions.