"If you are neutral in situations of injustice, you have chosen the side of the oppressor."- Bishop Desmond Tutu 
We are part of a society where the lives of Black, Indigenous, and other People of Color continue to be blighted by structural racism, lack of opportunity, health disparities, and direct violence by agents of the state and others. Organizations and businesses, including our own, have for too long been complacent or complicit.
Well Clinic has failed throughout its history to appropriately center the role of racism inside the profession of psychotherapy as well as inside our own organization. Our leadership is all white and our staff is majority white. We have been complicit in the ways that racism has continued to operate and dominate American culture and the marketplace we exist in.
We feel deep sorrow, regret, and humility in waking up to this and acknowledging it. We probably can not fully understand the harm that we have caused as a result, but we are engaged in learning and bring as much consciousness as we can to this ongoing process of advocating for BIPOC by committing to and being vocal about anti-racism.
As a community of healing professionals, we firmly support defunding the police.
It is clear that an institution with its origins as the Slave Patrol simply can not be part of a just and equitable society. Not only does it materially endanger the lives of Black people specifically, and has since its inception, but it also represents a way of viewing people and problems in society that is harmful to everyone.
The interlocking systems that create the majority of what the police are dispatched to address are solvable and as a society we have an ethical obligation to heal, repair and not to perpetrate new trauma on already marginalized and traumatized members of our community.
We are committed to installing anti-racism into the blueprint of our operations. Well Clinic hereby affirms and pledges more fully, to act in solidarity with those who are targets of this violence and inequity in their everyday lives. We have therefore pledged the following concrete action steps to embody our affirmation that Black Lives, Black Minds, Black Education, and Black Health, Matter – and we will continue to publish updates to this list as we accomplish certain objectives and create new ones.
Action and Accountability Steps:
We have divested from all financial institutions that have any ties to the prison system. Our bank, credit card processing company, and retirement benefits are all Certified B Corporations, meaning they have a rigorous commitment to social change and third-party oversight.
We have formed an internal Anti-Racism Task Force which is serving as the body of researchers and decision makers to oversee that our company stays committed to this task and has ongoing accountability.
We have created an ongoing clinical supervision group for De-Centering Whiteness in Psychotherapy. There are readings and discussions for our staff to un-learn the racism inherent in the field of psychotherapy and in all of our professional training. We are cognizant that we have undoubtedly failed many clients of color in our history by our ignorance of their experience of race and racism. We have also omitted to acknowledge the role of whiteness in therapy, which is a disservice to all.
Committing to creating an ongoing profit-sharing arrangement with a local Mental Health  organization supporting primarily Black clients and the professional development of Black clinicians.
Engagement with an external organization, Racial Literacy Group, for ongoing consultation on decolonising our institution. This includes but is not limited to leadership and HR practices and company culture. We will critically assess the language we use in our practice, in our handbooks, and in our hierarchical business practices so as to shed light on and make shifts to the centering of dominant culture in our vernacular.
Centering the education and training of all clinicians and staff to be anti-racist in their work throughout the hiring, onboarding, training, and supervision processes. We will prioritize the recruitment, hiring, mentoring, and promotion of anti-racist clinicians.
We will move away from police involvement as the first point of contact in our practice and encourage the use of local + community resources instead. We will compile a one-sheet quick guide of said resources and open this document up for collaboration and use within the Bay area mental health community.
We will utilize technology for client feedback in our practice to specifically solicit input on the treatment of race and equity in their services with us.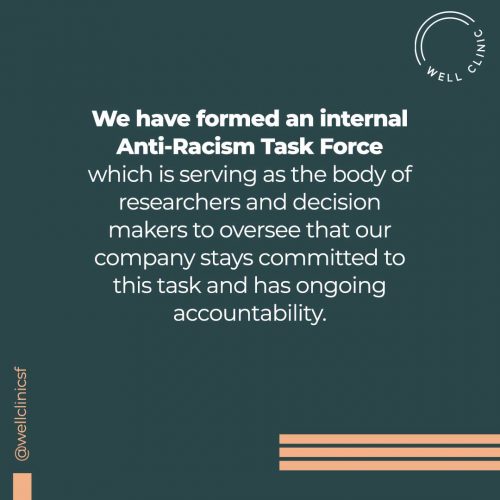 The selective and exclusive valuing of life, of achievement, of opportunity, and of intellectual and cultural contributions based on which racialized group one is thought to be a member of is manifestly unjust and dehumanizing.
It compels us to repeat, internalize, and act upon the affirmation that Black lives matter. Black lives do matter, and our collective practices, discourses, policies, and laws must reflect this. Black lives matter for the same reason that everyone's life matters; yet we are compelled to affirm that Black lives matter precisely because institutions, systems, practices, laws, and cultural behaviors have so long denied this.
We are committed to taking further steps to engage our Well Clinic community and the greater Bay Area mental health community in dialogue and action to realize a world in which "Black Lives Matter" does not even need to be a controversial battle cry, because it is a given universal understanding of human rights and a dignity to live.
Until that world becomes our reality, we stand in solidarity with Black Lives Matter.
If you would like to discuss any part of our statement, please email the Well Clinic Anti-Racism Task Force directly.