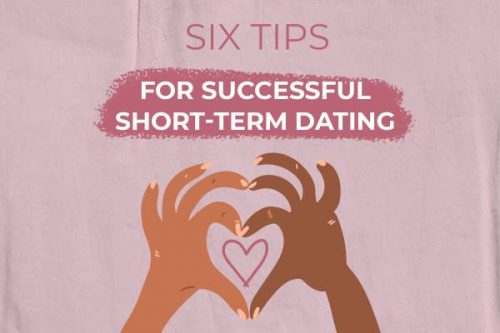 Many people date with the intention of entering a long-term relationship. However, that's not the only way to approach dating. It's completely possible, and may even be preferable, to embrace short-term dating.
Short-term dating can offer many benefits. That said, if you're not used to this dating approach, it can confuse you a little bit. Learning more about what short-term dating truly is can help you figure out if it's the right approach for you at this time.

What is Short-Term Dating?
As the name implies, short-term dating is dating without the intention of developing the relationship into a long-term partnership. There are many different configurations of short-term dating including a friends-with-benefits situation, a vacation-only fling, and a relationship lasting for a few months.
Benefits of short-term dating include:
The opportunity to explore different experiences thereby getting to know yourself better
Connection with another despite not being emotionally ready to enter a long-term relationship
Minimal dating stress because you aren't putting pressure on where the relationship is going
The chance to date different types of people who you might not see as long-term partner material
Helps rebuild self-esteem and excitement about dating after a breakup or challenging time in life
Short-Term vs. Long-Term Dating – How Can You Tell Them Apart?
The difference between short-term dating and long-term dating lies in your perspective. The fact of the matter is that even if you intend to approach a relationship one way, it may turn out another way. In other words, you may intend to date someone long term and yet it fizzles out after a few months. Conversely, you may fully intend to keep the relationship brief only to have it develop into a true love match.
With that in mind, there are some common differences that help you tell short-term and long-term dating apart. With long-term dating, you (and hopefully your partner) will approach dating with an eye towards future compatibility. You'll explore your thoughts about marriage, children, future ideal living situations, etc. You'll assess your partner with attention to how they can meet your needs years from now.
Short-term dating is all about what you get from your partner in the present moment.
With short-term dating, you focus on the immediate benefits of the relationship. You don't discuss the future. You aren't worried about long-term compatibility.

What Should I Share With Short-Term Partners?
Since the focus and goals of short-term and long-term dating are so different, the way you behave in the relationship is also different. Specifically, what you may choose to share with short-term partners is limited in comparison to opening up to a potential long-term relationship. You may opt to share less of yourself, limiting your vulnerability since this relationship is not intended to last.
The best dating situation is always to be as honest and authentic as possible.
While this doesn't mean sharing every single detail about yourself, it does indicate that you may wish to share certain things with short-term partners. Those things include:
Your intention to keep this short-term and what specifically that means to you
Whether or not you are having sex with other people, your STI status, and how to keep sex safe for everyone involved
The boundaries you need to set in this relationship
Updated information if your feelings change in the course of the relationship
Is Short-Term Dating Safe? Tips for Success.
Short-term dating is a different experience for many people. It's not right for everyone. However, if it might be right for you at this time, then you can pursue it smartly. Here are six tips for success with short-term dating:
Get clear about what you want. It's important to know why you're doing this and what makes it appealing to you. If you don't know what you want then your emotions can get messy with short-term dating.
Practice safe sex. Short-term dating often means that you and/or your partner aren't exclusive. Therefore, it's particularly important to practice safe sex.
Keep a journal. Short-term relationships are a great way to explore your own wants, needs, emotions, and thoughts. Keep a journal during this time to help you reflect.
Make respect a priority. Just because this is a short-term thing doesn't mean that you can't hurt the other person's feelings. Keep respect for yourself and your partner a priority.
Stay connected to your friends. Your short-term relationship can offer many things but it doesn't replace your long-term friendships. Don't let those fall by the wayside. That's where you get your real, ongoing support.
Have fun. Relationships are hard work. One of the benefits of short-term dating is that you get to just have fun. Remember that and embrace it.
If you want to understand your approach to dating and relationships better, learn more about
understanding and maintaining intimacy
.