Things used to give you joy. However, they no longer do. You might have anhedonia. Anhedonia, one of the primary symptoms of depression, is a distressing condition. But there is anhedonia treatment, whether or not your symptoms rise to the level of a diagnosable medical condition. You do not have to live without joy.
What is Anhedonia?
Anhedonia is when you lose interested in things that you used to enjoy.
Anhedonia isn't the same as changing interests. For example, if you loved soccer as a kid but then lost interest over time, that alone doesn't require anhedonia treatment.
Instead, anhedonia is a loss of interest or pleasure in many or all things.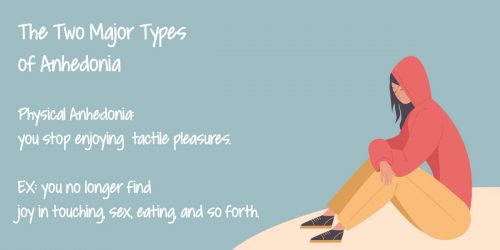 Anhedonia Symptoms
There are two major types of anhedonia: social anhedonia and physical anhedonia. The latter is when you stop enjoying tactile pleasures. In other words, you no longer find joy in touching, sex, eating, and so forth.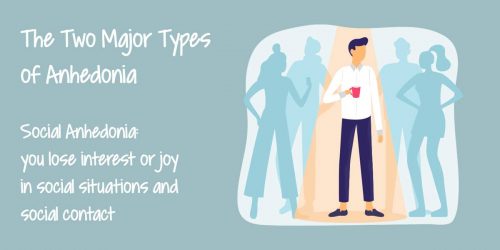 Social anhedonia, which you might experience alone or in combination with physical anhedonia, is when you lose interest or joy in social situations and social contact.
Symptoms or warning signs of social anhedonia include:
Disinterest in spending time with friends or family
Lack of interest in participating in social activities or groups that you once loved
Shrinking of your social world because it's stopped giving you joy
Lack of emotion and emotional expression which can result in a flat affect or in putting on fake emotions for the sake of others
Overall social withdrawal
Note that this differs from social anxiety. It's not that you have fear associated with social situations, but rather that you fail to feel any joy or excitement around spending time with others.
Note also that anhedonia can exist on a spectrum. You may still enjoy some things, just not to the degree that you previously did. For example, if you've always felt comforted by hugs, then you might still enjoy hugs to some extent but overall they leave you feeling less comforted than in the past.

Is Anhedonia Linked to Depression?
Anhedonia is a symptom of depression. In fact, a loss of interest (anhedonia) is one of the core symptoms of major depressive disorder. That said, you can have anhedonia and not have depression.
Anhedonia is also a symptom of other mental health challenges. For example, someone with schizophrenia might experience anhedonia.
Sometimes use of drugs and alcohol can lead to symptoms of anhedonia. Similarly, behavioral addictions, such as gaming addiction, can dull the senses in a way that leads to anhedonia. These things can create an inability to feel.
There is also anhedonia treatment for just this symptom. In other words, you can have anhedonia, which might feel a lot like depression, but not have the other symptoms of depression.
Some also argue that anhedonia can cause other symptoms of depression. Regardless of what caused the anhedonia, the lack of excitement, joy, and motivation can trigger depressive symptoms.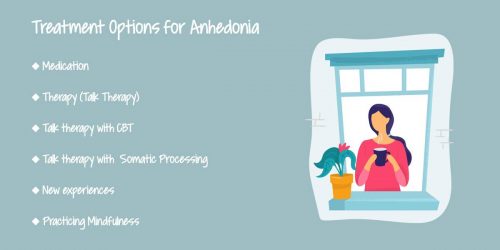 How to Treat Anhedonia
The best anhedonia treatment starts with a correct diagnosis. Work with your doctor and therapist to make sure that this is what's going on for you. Your doctor can test for things like thyroid disorders that can contribute to loss of energy and interest. Your mental health profssional can work with you to determine whether other mental health issues are also at play.
If any of those factors ends up being a reason for anhedonia, then you should seek proper treatment for the underlying problem. In other words, if you have major depression or schizophrenia, then work with professionals to treat those conditions. Anhedonia treatment will be a part of the overall treatment plan.
Oftentimes, the ways that you treat depression are also used as anhedonia treatment. People with anhedonia may try medication, therapy, new experiences, practicing mindfulness, and making sure to get proper nutrition and sleep.
Can Talk Therapy Help to Reclaim Joy?
But what if you don't have an underlying issue? How can you treat anhedonia? Talk therapy is one way to reclaim joy in your life. There are many different forms of therapy, and your therapist might combine talk therapy with CBT, somatic processing, and other treatment options.
For example, if you have physical anhedonia, then working with somatic (body-based) treatments in addition to talk therapy might assist you in regaining the pleasure of touch and other physical sensations.
Talk therapy can also help you get at the root of what's going on. Perhaps you have unprocessed trauma that has left you feeling frozen. This can make you disinterested in connecting with others. Trauma therapy can relieve the issue, serving as anhedonia treatment.

Talk therapy works in conjunction with other treatment when you know the cause of anhedonia. For example, many people experience anhedonia after a major illness diagnosis. It's as though you go numb and withdraw as a coping mechanism for this difficult news. Even as you work with your medical doctor to treat the illness, you can benefit from talk therapy to help you process your feelings. As you do that, you resolve the symptoms of anhedonia, and find ways to feel pleasure, joy, and excitement again.
You do not have to live without joy in your life. Contact us today for depression counseling and anhedonia treatment.