This summer I was asked to give a presentation for a small conference. No big deal, but around the same time I was also in the throes of planning a wedding which was weeks away, and finishing work for an art show I was in the same month as my wedding.
It was overwhelming, but I knew it would all be possible if I made the most of my free time to execute tasks off my to-do list. Yet somehow in the weekends and free moments I had, I would find myself mindlessly watching every Instagram story on my feed, intently binging on the great British bakeoff on my laptop while diligently researching all the contestants on my phone, and stressfully chewing on my bottom lip.
Eventually, I might hear the "ding" of my email inbox and would escape my technology vortex, realize hours had passed while nothing was accomplished off my to-do list, and feel a jolt in my stomach as my stress amplified and anger towards my own avoidance left me feeling completely directionless. Perhaps it was another distraction technique, but I was left wondering why being overwhelmed is so overwhelming, and "what is going on in my brain?".

Why does overwhelm leave us so paralyzed?
Ellen Hendriksen, PhD describes this attentional hijacking in saying, "Your brain doesn't just see a to-do list; it sees a threat. It sees the threat of scarcity: not enough time, not enough energy, not enough magical ability to fit everything into twenty-four hours. Or it sees the threat of failing, the threat of disappointing others, the threat of feeling incapable." Our response to threat is fight, flight, or freeze, and in these moments of overwhelm our brain might defer to overt avoidance and inaction as part of a "freeze" response.
How might we stave off overwhelm paralysis?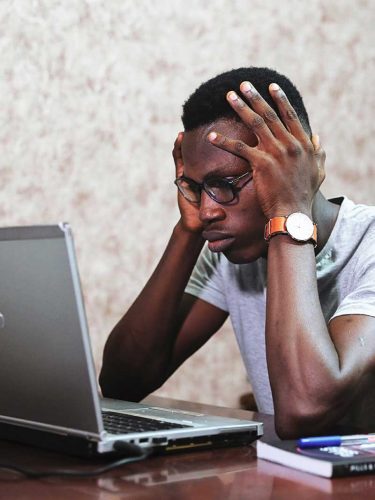 Start small: Mary Walker Baron, LCSW describes this action by referring to narrowing our focus; "If I find myself unable to move away from the enormity of the forest, it's time to focus on just one tree. If that one tree seems like too much, it's time for me to focus on one branch or even on one leaf of that one tree".
Often our to-do lists might delineate larger tasks like "create powerpoint presentation", but if we break it down into "create powerpoint outline", and "insert powerpoint graphics", we feel more clarity about how to get started, and are able to experience initial success that will promote continued positive action.
Tune into your environment: I once read a Tracee Ellis Ross quote that stated it so concisely, "When I'm having a really rough day, or a really bad moment, I have three tips: Change your underwear, wash your face, look at a tree." Overwhelm can leave us stuck in our own head, lost in a cloud of swirling rapid thoughts and unaware of our surroundings.
Take a moment and tune into your environment and inventory what is promoting or prohibiting action through all of your senses.
If your room is stuffy you might open a window or light a candle. Brush your teeth if your mouth feels dirty, or fold the pile of laundry on your bed. Our experiential environments consciously and unconsciously impact our disposition towards productivity versus overwhelm, and these preparatory actions set the stage for successful and focused action.

Talk through it with someone you trust: Sometimes when we are overwhelmed we see a big ball of tangled issues and we don't see where one task ends and another task begins. Talking through our tasks forces us to articulate them as smaller discrete actions rather than one abstract blob of impossibility.
ABOUT THE AUTHOR
Meg Franse is a Licensed Clinical Social Worker (LCSW) at Well Clinic in San Francisco. In her words, "I strive to create a therapeutic environment grounded in creativity and exploration."
Learn More + Book an Appointment With Meg