The truth is, few couples come into therapy for the first meeting and tell me they are not having sex.
Yes, it happens, but generally they start out with something else. "We've drifted apart", "We're fighting too much" – or someone had an affair.
And when sex does come up (usually because I ask about it), people do not get to the root cause right away – they tell me what's happening on the surface, because that's what they see every day. Here are some of the recent explanations I've heard from my clients.
Why people say they are not having sex:
We're too busy with the kids/work and don't have time
We've lost the spark; I'm not attracted to her/him any more
When we do have sex it goes well, but it's awkward for either of us to initiate
I'm waiting for him/her to initiate (because I've been rejected too many times) and he/she never does
He's obsessed with internet porn and has nothing left for me
I'm just not that sexual a person, I'm not interested in sex
It just feels like we are friends, our relationship doesn't feel sexual
When couples stop having sex, in any of the scenarios above, there is always more to the story. My job, in part, is to help my clients see below the surface, to understand what's causing these disturbances in the everyday reality of their relationship.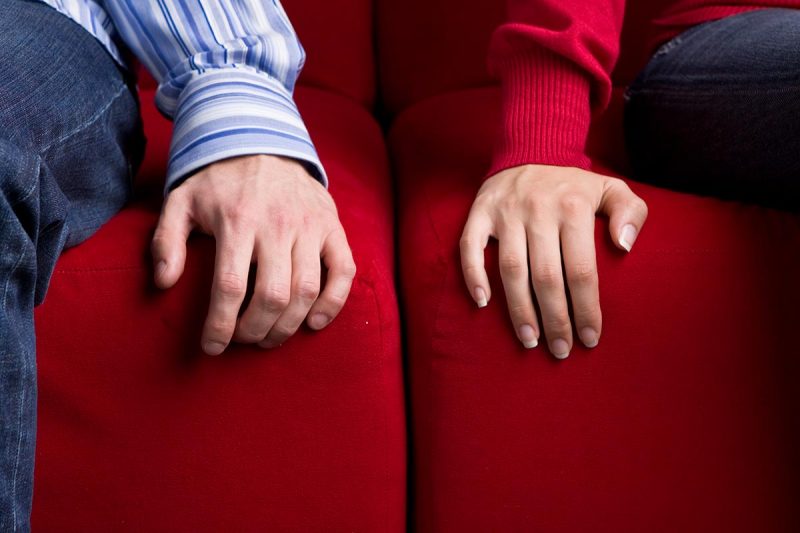 The real reasons couples stop having sex:
Someone has pulled out of the relationship. One partner, usually over the course of a year or more, has withdrawn emotionally from the relationship – he or she has one foot (or two) out the door. When this happens, it becomes very difficult for the couple to make any progress on difficult issues (like sex), because the EXIT is never far away. And for some people, one foot leads to two feet, which leads in turn to an affair or other infidelity.
Someone does not feel "safe" sexually. It may be that one partner has never felt safe in sexual situations – as a survivor of, or witness to, sexual abuse or violence, for example. Or perhaps they learned early on in life that other people's needs must always come first – which makes it hard to be in touch with one's own feelings and needs, and may lead to performance anxiety, or lack of arousal.
Something happened or isn't working. Loss of sexual connection can result from an unresolved incidents or issues (sexual or not) in the current relationship, which are causing distance to grow between the partners. This is the "elephant in the room" scenario – there's a problem, but you haven't found a way to talk about it.
Drugs/alcohol. While it is true that the physiological impact alone of habitual drug or alcohol use can interfere with sexual functioning, it is usually accompanying factors – lifestyle, mood & anger regulation, conflict – that have the greatest impact on sexual relationships. This set of problems is often exacerbated by co-using and codependency factors, leading both partners to deny that there is a problem at all.
Medication/physical difficulties. As a mentor of mine used to say about ADHD, this category of issues is both over- and under-diagnosed. Some people are too quick to blame their sexual problems on their partner's difficulty maintaining an erection or getting lubricated; however, this kind of issue, in isolation, can be successfully managed in the context of a connected, loving, trusting relationship. More often than not, it is the insecurities that it gives rise to that need the attention. On the other hand, it can be helpful to remember that sometimes physical arousal difficulties are a side-effect of prescription medications, or they may point to a physical problem that requires medical attention (or may be addressed relatively easily with a "performance enhancer" like Viagra, Cialis or Levitra).

When these issues are not faced directly and talked about, partners can start isolating from one another. Feeling angry, sad, hurt, disappointed, embarrassed, guilty, shameful – and believing that you have to keep it to yourself, hide it from your nearest and dearest, perhaps even from everyone, is a dreadful burden to carry and can have a big impact on your sexual desire. It will eat away at your self esteem, destabilize your moods, cause you to isolate yourself, and undermine your relationship.
So what can we do right now to start having sex again?
Schedule time for it. This may sound unromantic – "Let's meet at 2pm for some sex" – but if you two have let some time pass without addressing this issue, the chances are that you will not automatically start finding the time to deal with it. And take the pressure off about what will happen during that time – at first, it's not even about having sex, it's about rediscovering intimacy, finding your way back to each other.
Talk about what's happening for you. You and your partner need to find a way to open up to each other about what's holding you back when you might be having sex, or connecting intimately in other ways. And you each need to create the space for your partner to tell her or his story.
Listen openly and compassionately to what your partner is saying. Let him or her know that you have heard and understood.
Start slowly, focus on building safety. Save the simultaneous orgasms for later. Get to know each other, and reveal yourselves to one another at a pace you can maintain. And don't turn away – try to stay with the difficulty of what's happening, try to stay connected with your partner through it.
Start telling the truth. Once you start to feel more comfortable entering into an intimate space with each other, start telling the truth – to yourself and your partner – about what turns you on, what you want, and what you don't want.
Remember, this is not just about getting what you want, or giving it to your partner. It's also about finding the sweet spot between you, where you both feel good about the giving and the getting.
About the Author
Alex Momtchiloff is a Licensed Marriage and Family Therapist at Well Clinic in San Francisco. His specialties include couples counseling and premarital counseling, and he provides therapy in English and French.