As A Gay Therapist…
As a gay therapist it is very important for me to be "out" in my clinical practice. This not only creates more comfort for me in bringing my authentic self to work, it is also a way to model a level of communication and openness that I feel is essential to the therapeutic process.
In school as I was choosing a psychological area of focus, I came across LGBTQ+/Queer-Affirmative therapy. I wondered to myself, how is Queer-Affirmative therapy different from "regular" therapy? Shouldn't all therapists know how to work with queer people?
"Gay-Affirmative Therapy"
Queer-affirmative therapy is a relatively new modality.
Originally this idea went by "gay-affirmative therapy," coined by Alan K. Malyon in 1982. The explicit focus on affirming gay and queer identities within mental health treatment is particularly historic in context.
In 1973, the American Psychiatric Association (APA) voted to remove the diagnosis of "homosexuality" from the second edition of its Diagnostic and Statistical Manual (DSM). Prior to that, queerness was seen as a mental health problem to be treated. Modalities such as conversion therapy and shock treatments aimed to eliminate queer desire from its subjects.
In great contrast, gay-affirmative therapy sought to shift the symptoms of toxic shame, anxiety, and depression experienced by many LGBTQ+ people away from the individual person's responsibility, and acknowledge familial, societal, and systemic stigma as a key contributor to these symptoms.

What is Queer-Affirmative Therapy?
The definition has since expanded with an explicit intention to honor many intersecting identities of our queer communities.
Embracing a Positive View
Queer-affirmative therapy can be defined as "an approach to therapy that embraces a positive view of Lesbian, Gay, Bisexual, Transgender, and Queer (LGBTQ) identities and relationships and addresses the negative influences that homophobia, transphobia, and heterosexism have on the lives of LGBTQ clients," (NDSU).
Living Outside the (Hetero) Norm
As queer children growing up in a world that was for the most part not created with our relationships in mind, many of us have understandably internalized the idea that our way of loving is "different," or outside the (hetero) norm. This heteronormativity is reified in so many popular cultural images of love that children are exposed to, from Disney movies to gendered toys, to assumptive characterizations of little boys as "lady killers," or statements about little girls like "you better lock her up when she's 16!"
The effect on a queer child of growing up in a society that includes this overt or covert messaging can send a very early message that something innate about that child is "wrong" or "bad."
Toxic Shame
As we, queer people, get older, that negative sense of self can harden into toxic shame. Toxic shame is a core belief about ourselves, that we are "wrong," "bad," or "defective." This can shape our level of confidence, self-esteem, approach to our relationships, and goals in life.
What is unfortunate is that our existing systems (e.g. marriage, capitalism, etc.) seem to verify that marginalized people are outside the norm, exacerbated by intersecting identities such as race, gender, class, ability, and nationality.
By engaging in a therapy that affirms and celebrates our intersecting identities, and acknowledges the systemic factors that contribute to toxic shame, we can navigate our lives with increased perspective and pride.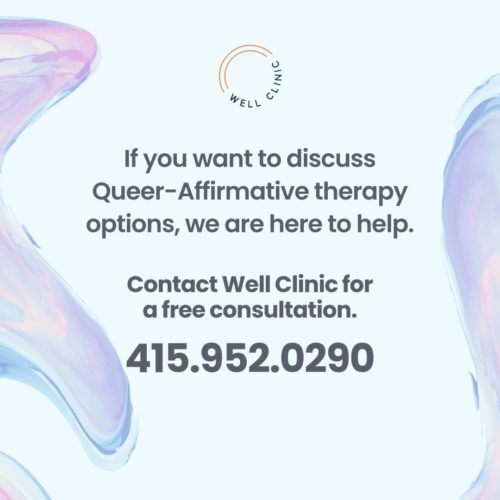 Next Steps
If you want to discuss Queer-Affirmative therapy, we are here to help. Contact us for a free consultation today.
About the Author
Jake Weinraub is a Licensed Marriage and Family Therapist (LMFT) at Well Clinic in San Francisco. In his words, "I am a believer in therapy because it can make ongoing issues feel more manageable, and better defined."
LEARN MORE + BOOK AN APPOINTMENT WITH JAKE WEINRAUB